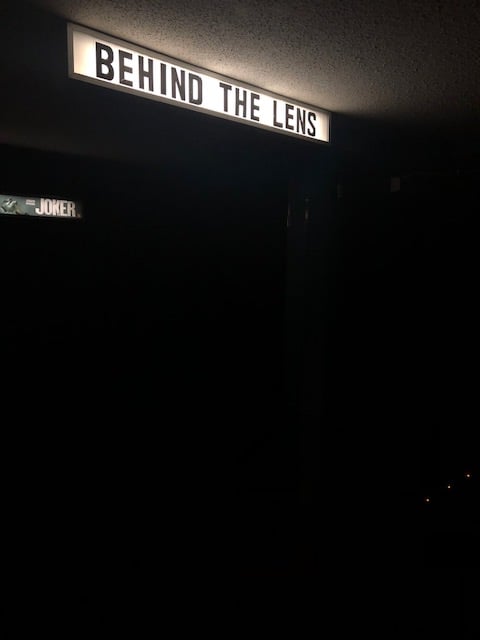 Fall has always been a fertile time for me. The harvesting of artistic endeavors with the crisp autumn air seems to be the perfect mix. October 10th was a day to remember. With fits and starts to the day, the final showtime at 7:00p at the Bowtie Criterion Cinema in Greenwich went off without a hitch. Well… there were some hitches, but what happens in Vegas, stays in Vegas, shall we say. Describing the events leading up to "pressing play" will remain in the vault, but I will share this one funny incident. Well, not so funny to me at the time, but it proved to be a talking point after the show.
The projectionist was using his laptop with my portable hard drive plugged into it. He said he put it in airplane mode, but did he? While in the middle of one of my films, Ancestry.com downloaded and covered the screen with all the details of the projectionist's profile. 911! He was out of the room managing other films at the time, so I texted him, "hurry quick!" About a one and a half minutes went by until he rectified the situation and got things back to normal. It seemed like an eternity to me. The biggest joke going around afterward was, "imagine if he had erectile dysfunction in his genetic make-up!" Okay, don't sweat the small stuff. It all went well in the end and everyone seemed to enjoy the evening, despite the hiccup.
Our new partner, Greenwich's Neighbor-to Neighbor, attended and spoke prior to the film about their organization and how there's real need even in affluent Greenwich. ACD in association with Peace Community Chapel, stipulated in our event that our film night would donate half of the proceeds to them. It was a real eye opener to have their director describe in detail about food insecurity in the town. We all were so humbled and grateful to know that what we were doing was serving the greater good of humanity.
Behind the Lens, already having had three runs in NYC prior, gained a few films in the line-up, somehow completing a big cycle for me, with my final film, "Crooked Dreams," taking front and center in my schedule this Fall. I took out my documentary on the making of a dance, leaving room to fill in the space with the newer films I've created. Blending the old with the new seemed to round out the evening, and I owe everything to my executive editor, Faith Marek, without whom I couldn't have pulled this off. We spent hours and hours editing, and enjoying dinners together, as we witnessed the days getting shorter in the process.
It may seem from the outside looking in that I have all my ducks in a row, that I'm highly organized, and endowed financially to be able to produce the way I do. A big NO! My brother once gave nicknames to all my family members when we were young. My nickname was "beautiful mess." Indeed, that's me. All the stars have to be aligned to produce a film, but trust me, I continually was off in outer space getting caught in one black hole after the next to make them. My karma has been to have no umbrella, but good visibility in the rain — to have no idea where I'm headed, but to end up in the right place — to have only two nickels to rub together, but to end up abundantly pleased. The messiness of life has stirred-up my inner terrain a large percentage of the time — the advantage; however, is that it colors all that I've created, and with this Fall of 2019… all is at its peak!
Check out Behind the Lens: Adams Company Dance on Vimeo