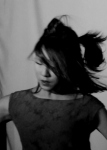 Digging way back into the passport that brought you to America could open up Pandora's Box. That's exactly what Julie Fiorenza did when she visited her birthplace last year… a trip to Korea that opened the door for my new dance, "My Room." I had never set a solo on Julie, so unraveling the story of her adoption seemed like an interesting place to start.
Working through the first few rehearsals, the movement just poured out, and Julie took to it, like a bird takes to flight. Fostering cross-cultural diversity came easily with this dance, as we stitched together themes using a slideshow of images from Korea, poetry, beautiful music, and of course, Julie's incredible dancing.
As you can imagine, this process saved a lot of money in therapy fees! Look for Julie's debut of this solo on October 10th at the Manhattan Movement & Arts Center in NYC!!!
Here's a sneak peak of the poem:
Engulfed in a sea of faces like my own–
I feel a sense of belonging, but I am a stranger to this place.
You took me back, Korea…
for my eyes to see,
my lips to touch,
my nose to smell…
You're a souvenir for only me to keep…
My nest, my cradle, my birthplace…
Roaming the streets of the city where I came into this world,
peering into the houses from high atop a hill–
I'm not alone…
It still feels like a dream… surreal.
But now I've seen it, stood there, brought a piece of it home.
I'm so glad I found you again…
~JF & MJA