Yale University Children's Hospital invited Adams Company Dance to be on a bill entitled, "An Evening of Remembrance,"  this past May. What better way to commemorate children who have passed away, than with a program designed for the families to share memories and enjoy performances of dance, art and music, all in honor of their loved ones. I pulled Ruby out of my rep to set on Ryan Schmidt.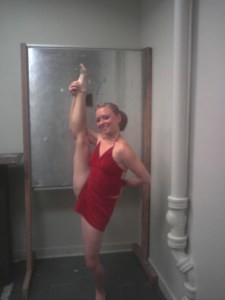 I needed a not too funny/not too somber piece for this "Puff's with Aloe" event, so Ruby it was. Ryan ate though the dance material as if she were ravenous. My aesthetic and her gumby-like flexibility gave this teary-eyed audience just the right prescription for hope and healing. For extra inspiration,  I told Ryan to dedicate her performance to her late mother, who had passed within the year. It was an evening of remembrance, no doubt, and lots of love was in the air at Yale.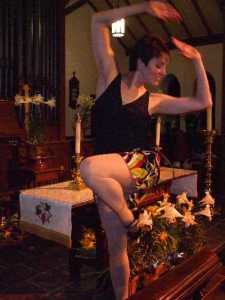 Spring started out hot with a new solo I choreographed on one of my seasoned dancers, Annie Church.
Annie asked me to set a Latin piece on a bill of various ballroom numbers that were performed in Greenwich, CT in a venue (a coffee house) produced by veteran
ballroom dancer, Wayne Hempstead. This was a tall and unique order, as the stage was small, curtailing the sumptuous use of space, for which I am typically a glutton. So, with only a two-hour time span to create this piece, I went into a zone, and pulled from my latin-jazz closet an outfit that fit Annie like a glove. Included in this fiery dance, entitled, Baile Caliente, were seasonings of mambo, samba, a little Jack Cole, and Luigi. Annie sauntered in and the audience went nuts. With the heat she generated, I almost forgot she was on a small stage! P.S. This picture was staged on an altar of a church… did you catch Annie's last name?
Please visit Adams Company Dance website!