Take a look at Ryan Schmidt and Milan Misko in "Slate," which I choreographed to Maria Schneider's "Rich's Piece."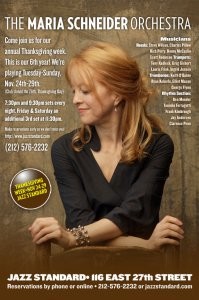 Two-time Grammy award winner, Maria Schneider will be at the Jazz Standard in NYC this week, so don't miss her! Her orchestra will be in full style through this Sunday the 29th of November.  Jazz music and dance came together this past August when I choreographed two pieces to her songs, "Rich's Piece" and "Aires de Lando," off her Grammy award winning, Sky Blue.
I can't wait to hear her premiere she wrote for her  band this season.  She told me she could see a dance to it! I'm sure I'll need to control myself in my seat as I open my ears to the possibilities this weekend!! Good luck, Maria!
Please visit www.adamscompanydance.com!