Through my adventures at Silver Sands State Park in Milford, CT, I was awestruck by the sheer beauty of Mother Nature's creation, nestled so close to my home. I had thought that at some point, the setting would surely be a gorgeous backdrop for a short film. Well, this past October, during a tumultuous Mercury retrograde period, I knew it was time to sieze the moment. I knew immediately that Chris Jackson, a dancer with whom I've worked, off and on for twelve years, would be my prime candidate to place his footprint upon my film, and on the cool sands of the beach. Amelia Golden joined us again for this new chapter at the sea where we were to begin.
Chris and I began our time together in NYC, rehearsing the material for this new solo. The music, by Tamara Wilcox (she supplied the score from our film short, Woodland Aire), and David Darling, gave us the perfect feeling for the style and approach to the movement. We magically finished the piece in two rehearsals, with the last being the most powerful in a large, open studio at the Dance Theater of Harlem, where Chris also teaches. Somehow the annals of DTH ancestry in our midst, moved our spirits to whip the piece into shape and finish it in a couple short hours that day.
The next task was having Amelia and Chris come up to Milford for the day, so we could shoot interiors and exteriors for the film. Using the material from Chris's new solo, we mixed up our time shooting his dance, and other off-beat shots inside the building of Connecticut Dance Conservatory. After wrapping up the indoor work, we convened at the beach, where the sun was slowly descending, and the wind was whipping at our faces. Minute by minute the lighting was changing, so I had Chris follow my direction quickly, and Amelia remained steady behind the lens, capturing footage that later proved to be invaluable.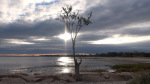 This majestic tree, standing all alone was tantamount in the unfolding of the meaning of this project of ours at the sea. Each of us knew internally what that tree represented for us, and so we left exhausted, cold, but exhilarated at the prospect of what this film could later become.
A couple weeks later, we archived Chris's solo at the Triskelion Arts Center in Brooklyn, where he performed at the highest level of his game, and brought tears to my eyes. His performance will be coming soon to Vimeo, and you'll see what I mean when you see him dance his most soulful, and genuine performance to date. In December, look for our new film short, Sea Chapter, at ACD's screening night at the Producer's Club on 12/17. More on that coming soon! Until then, enjoy these scenes from our shoot, including some from the last nice weather days of the year, at the beach!
| | | |
| --- | --- | --- |
| | | |
| Chris at CT Dance Conservatory | Chris with an Open Heart | Chris at Silver Sands State Park |
| | | |
| Amelia, Chris & Mitzi | Chris & Mitzi | |