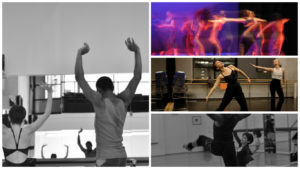 JUNE 28th Master Class from 3:00-5:00 at Ripley Grier Studios, NYC!
Put down your devices and come join me for two hours of dance jamming that will bring you back to the basics, and raise you up to a new level of your technique! I can promise you two hours of getting to know yourself. If you have what it takes to pull out your technique, make a mess of yourself and have no regrets, and can inform me that you know your somatic body and how it works from the inside-out, than I'm interested in you! My classes are built from a fusion of techniques learned over decades of being in the field. I've drawn upon the teachings of pioneers who carved the way for modern dance first hand. Perhaps I am in the last generation of those that have studied with the Masters of Modern Dance, a few of whom have since passed. I have been the student of many of their students, as well– company members of those pioneers. Most of them are still alive, but eventually they die off, and so on and so on…  the techniques trickle down slowly, but eventually the trickle becomes a weak stream. Uh oh! Lookout! We can't lose these precious pearls of wisdom! They have to be passed on or we risk losing the essence of our ancestry. I've absorbed and digested the goodness of my mentors, and have gathered ingredients that sing their praises, yet I have kept my finger on the pulse of the dance culture of today. The resultant material I offer in my classes filters through a sieve of my past experiences. I hope you'll glean from the colander of nutritious gifts I have been given through the years! African drummers will accompany this class for an overall upbeat experience!
Master Class with Mitzi Adams – Seeking strong male and female dancers for upcoming projects!
Registering now for a Master Class in Contemporary Technique for Int/Adv Dancers,  with Mitzi Adams, Artistic Director for Adams Company Dance, now in its 26th year.
A sought-after Master teacher who has taught at numerous colleges and universities thought the country, and currently listed on A Growing List of Active Women Choreographers in Dance Magazine, Mitzi Adams has been choreographing works for the past twenty-six years and has received numerous awards and distinctions for her choreography.
Where: Ripley-Grier Studios; 520 8th Ave (btwn 36th/37th Sts), 16th FL, NYC
When: Wednesday, June 28, 2017; 3-5p
Price: $20 (Pay day of class by cash, or all major credit cards–NO checks accepted). No walk-ins. Must register!
Space is limited. Register ASAP!
To register, please email Don Adams, GM: adamscodancegm@gmail.com or call 203.981.4553.