When the curtain came down on the New York International Ballet Competition this past year, I felt a fissure starting in the core of the dance world, but that wasn't the only news that rocked its foundation. What about the disbanding of the Trey McIntyre Project, or the bankruptcy and closure of Dance New Amsterdam? I realize you need to know when to fold 'em, but I also realize in the midst of all the hardship, there's sometimes reason to hold onto your hand, even though it may seem inane to the outside world.
I just witnessed a pond that dried up at a National State Park, but fresh new flowers, and plants were growing on its surface. Somewhere there's the possibility of new life, but only after a long pause, silence or drought, do we get to reap the rewards of Mother Nature's grand plan. As an artist, I feel part of the crack and part of the stem of a flower, all at once. The cosmic timing of producing, is always met with news of a death or some tragic press release, but we always continue to march on, and jump back into the studio.
Such was the case with"Goddess Danu & Birds Over Lower Lough Erne." This new solo set on Ryan Schmidt, was commissioned by award winning composer, Claudia Howard Queen, who envisioned this work after a mystical trip to Ireland. During my time at Western Michigan University, I met Claudia, who was a visiting artist at the time. I was completely blown away by her abilities as a percussionist, and her symbiotic way of folding music into the dance. She allowed dancers to experience movement through the rhythms and timbre of the music, like no other accompanist I have known. With her ideas of healing through music and dance, and the inspiring themes of Celtic mysticism, it was easy to say yes to this commission.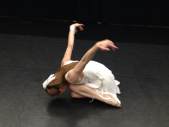 So as fairies, folklore, Selkes and goddesses enveloped my space, I connected to part of my roots, and drifted into a place that felt oddly familiar. With footage of birds flying over an Irish waterway, and music by Claudia Howard Queen, this multi-media piece will surely take you to mystical horizons. We look forward to our premiere at Triskelion Arts in Brooklyn, where we will also be sharing the collaborative works of filmmaker, Amelia Golden. Please read about our event here, and for now… I think I'll hold onto my hand!
| | |
| --- | --- |
| | |
| Claudia Howard Queen Composer | Amelia Golden, filmmaker |