On June 29th, ACD was awarded a one-day residency at the Dragon's Egg in Ledyard, CT. This is a magical place nestled in the woods, close to my old stomping grounds in Mystic. This enchanted never-never land, makes you forget about the world and all its problems, and allows you to open your mind freely to the endless possibilities of artistic expression. Four dancers gathered together to embark on a journey to make dances to the music of Maria Schneider's master work, "Winter Morning Walks," and specifically to the pieces based on Ted Kooser's poems. Dust Devil, a solo I set on Ryan Schmidt this month, was one of the pieces from this collection of songs. There are nine of them, and I was hoping to complete three more that day, but as the temperature rose, and the sweat poured down our brows, I could only muster two more works… ok, that's pretty good, considering the day got off to a late start due to a traffic jam on I-95. Go figure!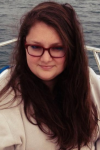 At around 5:00, filmmaker, Amelia Golden, arrived to give us a respite from our fatigue, and to start up her lens and creative engine. There's something great that always happens when she is present. I set out to have a small showing at 7:00 pm, so we were on a bit of a time crunch to get the two pieces I managed to choreograph, polished, and to grab a few ad-hoc shots in the great outdoors, while the light was still good. The dancers had fun parading around this funky sculpture outside, and performing pseudo-Godspell movements around the gardens and landscape. This was the dawning of the age of Aquarius, no doubt! We even ate hummus and delighted in our organic food from Trader Joe's.
Amelia worked diligently to capture the footage from the two dances, and to also grab moments from our process, for what will become a film-short about our day. The dancers gave their all through their sweat-soaked dance clothes, and delivered brilliant performances of two new works. I was so proud of them for achieving so much in so little time, and for making it look pretty close to theater quality.
Please revisit my post about Maria Schneider's new album, and be on the lookout for when I eventually get these videos to Vimeo, and when I will attempt more of her works from the series. I'm so inspired by her music! It hatched a few ideas so far, and I'm looking forward to a bigger clutch!