When a new work emerges, there's inevitably twists and turns in the direction you'd like to see the piece move toward. Such was the case with Descendence. I began the rehearsal process in the Winter with the extraordinarily talented husband and wife duo, Milan Misko and Nana Tsuda. After its original completion, we shelved the piece for a few months, then dusted it off, and started the metamorphosis. After a title change, and a revamping of a few items, we premiered the work in the KoDaFe Dance Festival at the Manhattan Movement and Arts Center on June 22nd.
This was a bill for many tastes, and yet all involved brought a lot of emotion to the stage. At last, on that beautiful Sunday afternoon, I released the dance to the dancers, and gave them the opportunity to make it their own. Thank you to the dancers for a wonderful premiere! What a great, therapeutic process it was to dig deep into our history, and integrate all that trickled down from our ancestors, and loved ones that have gone before us. So much learned, and so many more miles to journey…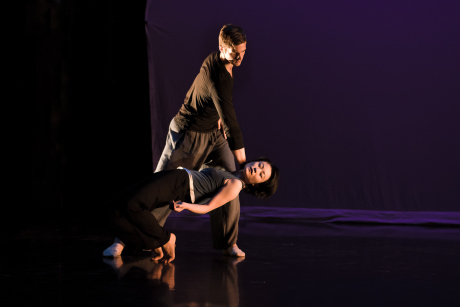 See more of Cathryn Lynn's photos here!
Stay tuned for the video!