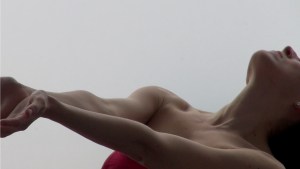 Adams Company Dance presents: "Going Solo" — an immersive evening of dance, live and behind the lens.
When: Saturday, May 4th,  2019
Time: 8:00pm
Where: Triskelion Arts' Muriel Schulman Theater
106 Calyer Street, Greenpoint, Brooklyn, NY 11222 // enter on Banker Street
Tickets: To purchase please click on this link. 
Currently listed on A Growing List of Active Women Choreographers in Dance Magazine, Adams blends solo works from her repertoire along with uniquely crafted films, highlighting the soulful and whimsical voices of the solo dance experience.
Abstract films of solo artists have been a mainstay in Adams' archives. From the Baryshnikov Arts Center to the shores of Silver Sands State Park in CT and everywhere in between,  Adams and filmmaker Amelia Golden weave dancers into their unique settings to create film shorts that are visually stunning, whimsical and emotionally stirring. New and past repertoire of solos dating back to 1998 will be danced live, interspersed with the films — celebrating the solo dance experience, in Adams' visceral and awe-inspiring works.
Dancers featured: Julie Fiorenza, Abby Marchesseault, Heidi Sutherland,  Christopher Taylor, Joshua Tuason, Evita Zacharioglou.
Dancers featured in films: Annie Heinemann, Alana Kirzner, Jeremy Neal, James A. Pierce, III, Ryan Schmidt.
This program is supported, in part, by donations from generous supporters of Adams Company Dance & Peace Community Chapel. 10% of all donations made to Adams Company Dance for this production, are tax-deductible  and will be donated to Peace Community Chapel, for their on-going missions to support the CT Food Bank. All donations can be made by clicking this link.