As this Summer begins and I prepare my tote bag for the beach, I also have to unload my dance bag and head for the laundromat. Time has gotten away from me, and I haven't yet laundered the costumes that put me in high gear this past Spring. Typically, in a week or so after a gig, I do all the post-clean-up, but with my heavy workload, a trip to my former residence in Tucson, and a short stint in Austin, TX to visit a good friend with my sister, I literally have been on a treadmill and haven't had time to tumble dry, or process what has simply been a whirlwind of a season.
Except for the initial hiccup with casting, my piece, "Miles" went to the stage at the end of May in the KoDaFe 2015 Dance Festival at the Ailey Citigroup Theater in NYC. Adams Company Dance has been invited to the festival since its inception, three years ago, and it went off without a hitch. Cultural exchange between artists, choreographers, and dancers united the evening, as we shared a common theme of sharing our origins. My niece, Alana Kirzner, along with Gierre Godley, who previously performed this duet at Ailey, danced beautifully together in this emotionally driven, highly athletic dance. How very proud I was of my niece for her comeback dance performance, after a two and a half year hiatus from dancing, due to an injury. Adding two understudies to our rehearsal period made for a fun time, as I reunited with a former student, Jeremy Neal, from my time at Western Michigan University, and with Ana Estrada, a lovely dancer from my alma mater, University of Arizona. Appropriately titled, "Miles," the mileage this dance has driven so far, had more miles to go, and the dancers certainly drove it home with their bold performance.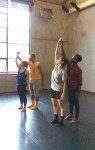 With music by three-time Grammy Award winner, Maria Schneider, ( I could never tire of her composition), the dancers strapped in for another tour of duty for this gem of a dance, for which Maria so generously granted permission. As a side note, I was distracted in a really good way this Spring to attend the launch of Maria's new CD, The Thompson Fields. As I said with her last CD, and I'll unabashedly state again: run, don't walk to buy this album of pure genius!
Next up was the first annual Film Lab at Triskelion Arts. Annie Heinemann-Church was the lead in our film, "A Dress in the Stream," which was selected for this all-dance film festival in a funky neighborhood in Brooklyn. This art-house, laboratory of dance culture, moved to a new location this past season, renewing its vigor and promise of a brighter future– so nice to see the smaller venues gaining such momentum! Being in the company of other like-minded artists, made us all feel like one, big, happy family. Fast forward from the 80s, when Beta was making its debut, we sure have come a long way with dance morphing into new and acceptable mediums in the digital era. I almost had forgotten about live dance that night!!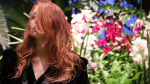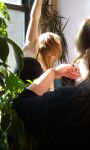 Simmering with the smell of a stew so rich with ingredients you can taste it's flavor from around the corner, was our film, "Hush Little Child." The frigid film shoot, on the last day of February in the freezing cold, still resonated in my mind, yet the days of Spring, with the flurry of activity, disabled me to take this rich pot off the stove for a cooling off and completion; however, that didn't mean that I wasn't able to taste-test during March, April and May! With my many trips back and forth to Brooklyn to work with my videographer/editor, Amelia Golden, the stew that once seemed raw and without spice, finally cooked up to the right temperature and flare. I hope you enjoy our premiere.
So there. I've now aired all my dirty laundry from the Spring, my dance bag is cleaned out, and now I can enthusiastically start my Summer, savoring the good memories from our events. Thanks to all the artists who participated in creating our artistic feast!
| | | |
| --- | --- | --- |
| | | |
| Amelia Golden Filmmaker | Dancers rehearsing | Film shoot day with Amelia and Alana |
| | | |
| Alana and Gierre in "Miles;" Photo by IKADA | Annie in "A Dress in the Stream" | |