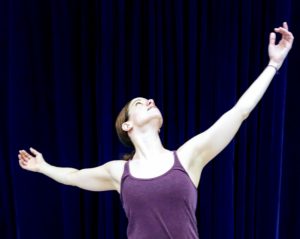 A new dance emerged in my Jiffy-Mix style in the chilly month of February — a month that typically has me searching under the snow and hard ground for fertile ideas. Heidi Sutherland was willing and able to join me for what was to become a gem of a solo. We started it in a very tiny studio at Ripley Grier on 8th Avenue, where many-a-dance has been created. Within an hour and a half timespan, she sewed the movement into her skin and bones, and beautifully grew into what became part I, featuring emotional piano music by Pure Composition — btw,  through a site I found that allows for a quick purchase of a music license.  Part II started at  Trisklelion Arts in Brooklyn on February 5th, where Heidi took her craft to a new level, with inspiring music by Tom Rosenthal.  I came across Tom's music while working out one day at the gym. A cool image showed up in my Vimeo feed and I clicked on it. I immediately started to move as I listened to the poignant lyrics, not caring if anyone might've caught me in between their grunts and lifts. A prolific songwriter/musician from the UK, Tom was kind to give me permission to use his piece. In another quick turn- around — about and hour or so — Heidi learned what I poured out with such alacrity, I felt she had been rehearsing the piece for a month!
Ok, time's up!! In walks the videographer, Joel Stephen.  Switch gears and start teching. Joel worked on Dream Spell and Ebb and Flow, and was thankfully available for this project.  His eye for detail and top-notch camera work, allowed for smooth operations from camera's rolling to the final credits. His laser focus instilled a great confidence in me. I set the lighting quickly,  had one dry-run, and voilà —  a dance was born! With three takes, each having a wide and close-up version, there was much footage to sift through. Heidi was a trooper and kept up such an athletic pace, I hardly could believe she made it through three run-throughs, each one dancing more vigorously than the next. That's a true professional, and I am so grateful to her quick-study commitment to all the movement, and her passion to perform! She nailed it for the camera, and danced the story of triumphing over adversity —  the story I keep telling over and over, ad nauseam!!
After a four hour editing session, Joel and I came to our final mix. What a breeze! LOL!! It's the intricate work of editing that's far from Jiffy-Mixing. Not bad timing, though, for all that we had to do.
So, why is it easy to drown? Go figure. It's all of our stories, right? Like that old afghan that lays on the back of the couch, we've all sewn in our patches of hardships over the years to create our tapestry. Somehow, it soulfully keeps us warm and reminds us of where we've been… and just how lucky we are to still be able to pull it over our shoulders on a cold night in the winter. It's easy to drown in pain, sorrow, debt, and tears, and I can't begin to count how many times I've swum up to the crest of the wave, only to be swept away again. Each time the hanging out to dry process seems to get shorter and shorter with every passing year, but the distance to the water, where we might slip in… remains a close cousin — it's easy to drown, but relative to our inner-strength, we become consummate swimmers in the waters of life.
(While writing this blog, I learned that Heidi's dog, Gizmo, passed away. May she rest in peace and float forever in God's love — oh and did I forget the mention the  car accident that my husband and I were in this week? We're in one piece, but the car was totaled. #5  not our fault on I-95 in the past 10 years — it's easy to drown and this was one of the easy stories!)
Its Easy To Drown (2018) from Mitzi Adams on Vimeo.