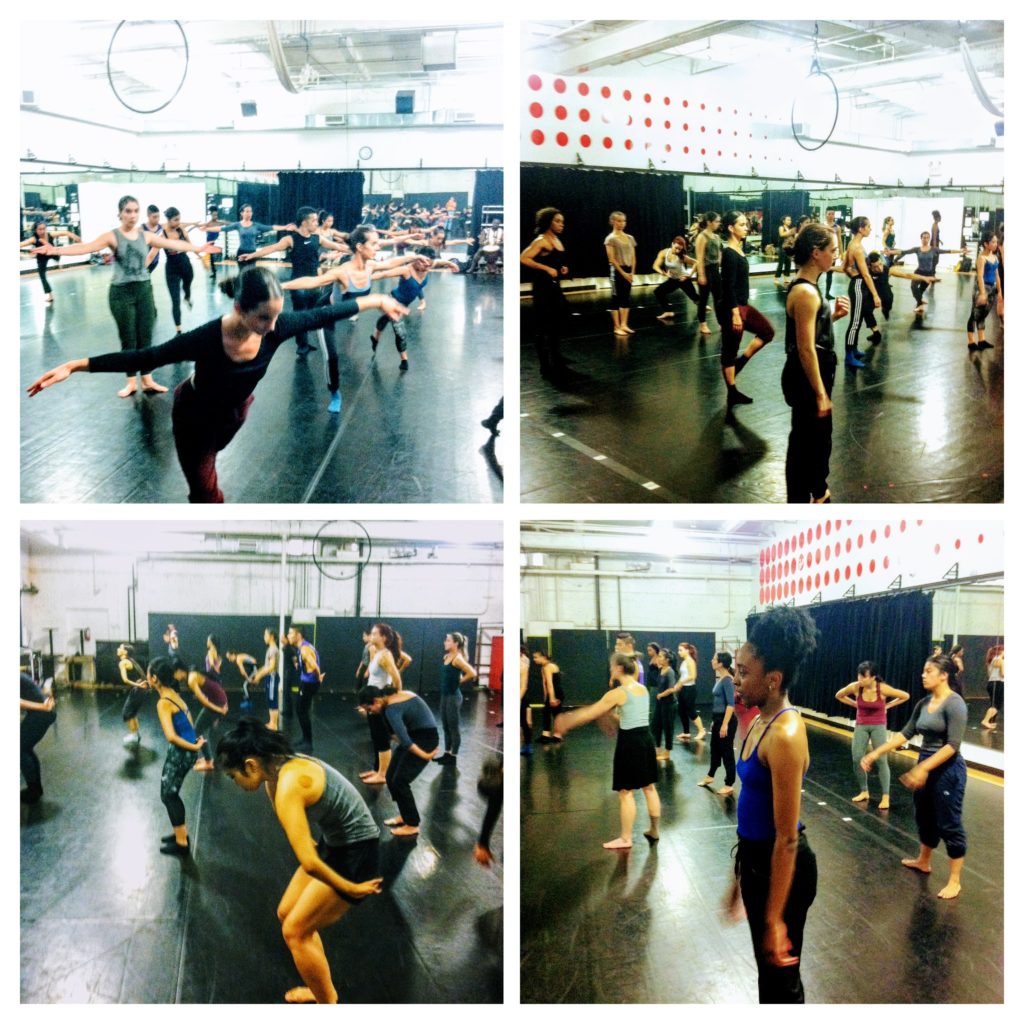 June 11th was an exciting day for me. First off, I ditched Manhattan to teach at a studio in Long Island City — a nice departure from the usual studio haunts that I hang out in. RWS Entertainment has cavernous studios, allowing for great across-the-floor combos and leaping on long diagonals. I was planning to spot new faces for upcoming Jiffy-Mix projects, so I offered it as an audition/master class. The sign-up was overwhelming, and the class was full!
Five of my hearty dancers were there to help demonstrate and be the strong leaders in the band. The talent was fierce, including a handful of athletic men to balance the female presence. It seemed no one was rocked by coming out to this location, and in fact, it was quite easy to get to. Class with an accompanist is my preferred method of teaching, and I wasn't going to allow for canned music with a Master Class, so I looked into my files, and found Mangue Sylla, a distinguished musician from the Alvin Ailey School. Djembe drums have been a favorite of mine in modern technique classes, as the sound moves through your body from the depths of your soul. I loved playing my claves along with him to accompany the dancers. The three-against-two rhythm is embedded in my hands from a percussion class I took in grad school. Mangue and I grooved on that one for awhile. I loved the interaction between us, as the sound poured throughout the studio, and I lost myself in the music.
My dancers engaged in my technique without missing a beat, (as they get me) throwing themselves into whatever I gave them, offering precise visuals for the new movers. The heat was turned up high and the dancers all broke a good sweat — so I simmered them down afterward with a little Jin Shin Jyutsu Self-Help — a perfect way to bring the high energy to a collected calm before they departed for their next engagement. Lots of hugs, handshakes, and gestures of kindness passed through the door after our two hours together. Many new faces showed up and danced their very best in that class, without a number on their chest, as in most auditions, but with a love of dance in their hearts — a sight to revel in and remember for years to come! And yes, success with finding a few new artists — though I could've chosen most all! Check out our latest Jiffy-Mix to see who some of them are!